SRM exhibits at ECOMONDO in RIMINI, Italy. 8 – 11 November 2022
Find us in HALL D5, Stand 182!
Contact for more details: oleg.mossiaguine@rotor.se
SRM new developed airends for industrial air compressor market
August 2022
SRM (Svenska Rotor Maskiner) has been in the forefront of machine development since year 1908. We invented a number of widely used machine types of today, such as steam turbines, gas turbines, air pre-heaters, automatic gearboxes, screw compressors and many others. The screw compressor was also licensed to most of todays leading manufacturers of air compressors, such as Atlas-Copco, Ingesoll-Rand, GHH, Kobe-Steel, Aerzen, Hitachi, Termomeccanica, Gardner-Denver, Tamrotor, Sullair and many others.
Oil-injected screw compressors for industrial air are widely used in different applications and produced in many countries. Screw compressors stay for significant amount of energy consumption in the world and pressure from governments on manufacturing industry to improve performance will increase.
Many of manufactured compressors can be significantly improved in performance if manufactured with use of proper "know-how".
SRM is now offering a new developed range of oil injected screw compressor air-ends for license production on non-exclusive basis. Non-exclusive means that few manufacturing companies will share the same compressor design. The series is named SRMAC and has initially 5 sizes to cover main part of industrial air compressor market. In these machines, we are using the best parts of modern screw compressor development to achieve very highest level of performance and long endurance.
All models will include high-performing SRM-profile and casings designed to cooperate with SRM profile for highest possible performance of compressor. Bearings are accurately dimensioned to achieve longest possible lifetime.
All-in-all – the package includes everything you need to achieve superior airend performance!
Contact us: oleg.mossiaguine@rotor.se
Water-lubricated compressors for bio-gas upgrade
June 2022
The WB300 and WB900 compressors are water-lubricated and water injected twin screw compressors designed to compress raw biogas and similar gases, containing hydrocarbons, CO2 and large amount H2S.
The compressor is absolutely oil-less as no oil or grease is introduced into the compressor. Key features of the compressor are the hydrodynamic bearing arrangement, plastic/ceramic rotors and water injection. Hydrodynamic bearings have been used to avoid oil or grease in the compressor.
At the moment SRM has supplied more than 100 of such compressors for various raw biogas upgrade plants around the globe.
New compressor development
During May 2020 SRM have signed two agreements for development of new products to be manufactured in Asia. SRM will make the complete design including performance verification test in our test facility in Sweden. We will also support the customers to establish a serial production of the new products.
We are very happy and proud winning these projects and thereby contribute with our knowledge and experience to further develop the business for our customers in Asia.
The oil-free screw compressor
RM was the first to develop oil-free screw compressors for applications with variable operating conditions or unstable gas composition. Oil-free screw compressors are the best choice for applications where no other type of compressors can operate economically.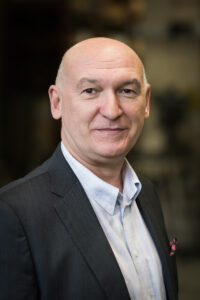 Oil-free screw compressors can easily handle gases containing free liquid without any pre-treatment of the gas. SRM can design and manufacture an oil-free screw compressor in accordance with customer specification.
Please contact Oleg Mossiaguine if you have projects to discuss.
oleg.mossiaguine@rotor.se
SRM – 112 years
This year, we celebrate SRM's 112 years at the technical forefront, as a development company focusing on our own patented technology for compression and expansion of gases. SRM was established in 1908. Since then we have been inventing and developing a large number of products, with our highly efficient screw compressor technology as the core activity.
Looking back, we feel confident looking forward, continuing to show leadership and innovation in developing environmentally friendly products for fuel cells, biogas, industrial refrigeration and other applications for a more sustainable future. At least for another 112 years!
Production started
We have now started production in our new workshop in Saltsjö-Boo / Nacka, Sweden. These rotor pairs are made with extremely high precision and will be installed in an SRM oil-free compressor in an oil & gas application in Tatarstan, where the object is to avoid methane release from oil wells to flame or even go directly to the atmosphere. This is one of many small steps where SRM contribute to reduce the global greenhouse effect.
SRM NEW WORKSHOP AND LABORATORY
This year started out with a big change for us at SRM! Our workshop and laboratory have relocated to a new facility in Kummelberget (Saltsjö-Boo / Nacka, Sweden) and we already feel right at home. This is where we are going to work for a more sustainable future with our world-class technology.
Our office is still located in Sickla, Nacka